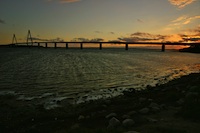 Book cheap flights to Denmark by selecting an airport destination in Denmark below. Compare flights to Denmark from over a hundred airlines worldwide and book online with us today.
The Kingdom of Denmark, or just Denmark for short, is a Scandinavian country in Northern Europe. The Kingdom of Denmark includes Greenland and the Faroe Islands and is located south-west of Sweden and north of Norway. Denmark has shores on the Baltic and the North Sea. Its geography is largely that of a peninsula and has many islands, including Zealand, Funen, Vendsyssel-Thy, Lolland, Falster and Bornholm. Whilst Denmark has been a member of the European Union since 1973, it has not attempted to join the Eurozone or adopt the Euro as its currency. Denmark has a market economy but also has the world's highest level of income equality, and has been ranked as one of the happiest and least corrupt states in the world.
Denmark has the largest airport in Scandanavia, located in Kastrup, it is known as Copehnhagen Airport. The top tourist destinations in Denmark include the Tivoli Gardens in Copenhagen, the Dyrehavsbakken in Zealand and Legoland in Jylland. These each receive millions of visitors every year. Copenhagen Zoo is also another popular tourist attraction with over one million yearly visitors, making it one of the most visited zoos in Europe. Some of the advantages of Denmark are that it is easily explored and usually is not crowded, which can often take the stress out of tourism. English is also widely spoken in Denmark, making the country accessible to tourists.