Esbjerg Cheapest Fares
To search and book flights to Esbjerg in 2020 and 2021, please enter your requirements and click the search button above.
The Esbjerg Rock Festival is not what it seems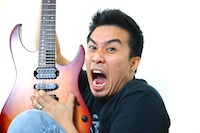 The Esbjerg Festival Week occurs every year in June and it has no sign of stopping. The artists performing at the festival are not what would be expected as part of a rock concert, with the whole of the show paying homage to the classic rock sounds of the 1980s.
Each year, the rock festival takes place in the Vognsbølparken Park in Esbjerg. The park is located to the west of the city and there are many options for accommodation including hotels or bed and breakfasts. Within the park itself, when the concert is not on, there are many things for visitors to do including an animal park and aviary.
There will always be a great line up of artists who will be appearing that the Esbjerg Rock Festival, many of whom are well known. The line up for the festival is always listed on the official Esbjerg Rock Festival website and is updated each year. The concert begins at around 11.30am and usually finishes at 10.30pm.
Getting to Esbjerg City is easy via various methods of transport, including one of the many flights that are available from a number of United Kingdom airports. Esbjerg Airport is a short ten-minute car journey from the city centre and is located to the north east of the city. There is also the option to travel by car via a ferry route in to Esbjerg from one United Kingdom destination in Harwich.