Sonderborg Cheapest Fares
The lowest fare found to Sonderborg (SGD) was £348 with KLM. The fares shown here are the lowest flight prices to Sonderborg obtained in actual searches by Just The Flight customers. To search and book flights to Sonderborg in 2020 and 2021, please enter your requirements and click the search button above.
Sonderborg: Denmark's Culture on Display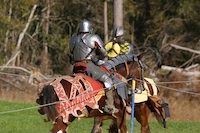 Offering a break from the bustle of the large metropolis, the city of Sonderborg is a centre of culture in Southern Denmark. This growing city has a rich history and celebrates it through a series of events in the spring and summer months. Sonderborg is the site of the historic Sonderborg Castle and a great deal of military history, making it one of the premier historical destinations in Europe as well.
The annual Ring Jousting Tournament held in Sonderborg is a festival celebrating Danish culture from the Middle Ages. This tournament sees colourful re-enactments of Medieval battles, demonstrations of skill with the lance and some superb horsemanship. A grand parade kicks off the Ring Riding Championships, and this sparks a celebration in cafes throughout the region. Over four hundred horsemen dressed in Medieval finery compete at the tournament.
No visit to this city would be complete without a visit to Sonderborg Castle followed by a delicious sandwich and Frikadeller – a meatball dish served with potatoes and vegetables. Evenings in Sonderborg are a time when the city comes alive with theatre, art and music events. Sonderborg is renowned for being an artist's haven with shows and openings every day of the week. The Sonderborg Summer Revue is the city's flagship event with over twenty thousand normally in the audience. The city is very bicycle-friendly and a hired or borrowed bicycle is the best way to get around.
Full of cultural treats and Medieval heritage, Sonderborg offers the best of Danish art, culture and history to visitors from around the world.