Reykjavik Cheapest Fares
The lowest fare found to Reykjavik (KEF) was £84 with EasyJet. The fares shown here are the lowest flight prices to Reykjavik obtained in actual searches by Just The Flight customers. To search and book flights to Reykjavik in 2020 and 2021, please enter your requirements and click the search button above.
Verslunarmannahelgi Day Festival in Reykjavik Iceland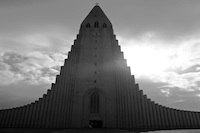 Reykjavik is the northern most capital in the world, and is a destination complete with nightlife, interesting people, and colourful buildings. It is also home to the Verslunarmannahelgi Festival, a Labour Day celebration that occurs every August.
Traditionally, Verslunarmannahelgi is the Labour Day Weekend which is held on the first Monday of August. Like many countries' national holidays, the days can vary, including July and August dates, depending on the calendar year. The entire weekend is spent with July coming to a close and the beginning of August marked clearly by events and festivals throughout Iceland, including Reykjavik.
Bonfires are set at night in safe zones to add light to the night and accompany the entertainment, such as live music. Music is often led by Icelandic groups from pop and folk genres. During the day outdoor and indoor activities are held. Large tents are set up for shelter in case the weather decides to turn. The entire city tends to show up for the event or at least find a place around Iceland to celebrate the holiday.
Iceland's proximity to the UK makes the festival and holiday weekend an easy destination to access, with flights from London to Reykjavik. At this time of year, the sun is up for a longer period of time, which provides plenty of daylight hours to take in the food booths, music, and other events.
The restaurants, cafes, and museums are always popular among UK holidaymakers. Every Friday night is characterised with runtur, a pub crawl event.