Bucharest Cheapest Fares
The lowest fare found to Bucharest (OTP) was £147 with British Airways. The fares shown here are the lowest flight prices to Bucharest obtained in actual searches by Just The Flight customers. To search and book flights to Bucharest in 2022 and 2023, please enter your requirements and click the search button above.
Medieval Music in Bucharest Old Town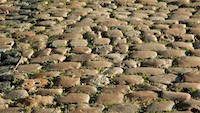 Bucharest's Old Town is the setting for the Bucharest Street Music Festival every June. Known as D'Ale Bucurestilor, medieval troubadours perform Romanian folk music and medieval pieces in the cobbled streets and winding alleys of the Old Town, amongst the Belle Epoque buildings, in this weekend-long music festival.
Bucharest, the capital of Romania, was once known as 'Little Paris' because of its wide, tree-lined boulevards and beautiful buildings. Bucharest is the home of the second largest state building in the world after the Pentagon, the colossal Parliament House. It has a boulevard longer than the Champs-Elysees with its very own Arc de Triomphe. The city has a mixture of architecture ranging from old monasteries to Orthodox churches, and from Stalinist architecture to Second Empire mansions. This tourist destination has a wealth of picturesque city parks and the best museum in Romania, the National History Museum, with exhibits from pre-historic times to the early twentieth century.
The Village Museum is an interesting tourist destination with its 300 buildings showing the history and design of the rural architecture of Romania and peasant workers in traditional dress of the 16th and 17th centuries. The Village Museum is in Herastrau Park, next to a lake. There are peasant homes, wooden churches, barns and houses from all regions of Transylvania. There are traditional crafts on sale and several festivals are celebrated here.
Otopeni International Airport, just outside Bucharest, is one of two airports serving Bucharest with flights arriving from many cities worldwide.