Sibiu is Rated a Three-Star Michelin Attraction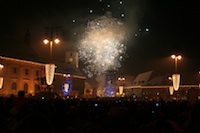 The mayor of Sibiu, Romania, announced recently that the city had been awarded a three-star rating in the Michelin Green Guide, suggesting that it is definitely a city worth visiting.
The Michelin Green Guide rates attractions rather than restaurants, with three stars being the highest rating. Thus far, Sibiru is the only Romanian city to earn this accolade.
Mayor Johannis said he was also looking forward to the publication of the Red Guide for Romanian hotels and restaurants, which will recommend the beautiful scenery and surroundings of the Saxon city, including the Zoological Gardens.
Sibiu also made it into the Events Guide with a nomination for almost every month of the calendar. Thirteen pages are allocated to describe the baroque charm and beauty of this destination, which was voted European Capital of Culture in 2007.
Sibiu had a million visitors in 2007, and has maintained its position as one of the top tourist destinations in Eastern Europe. Summer festivals have also proved to be a huge draw, with the International Theatre Festival attracting around 60,000 visitors per day between May and June.
Sibiu is a compact city that is easily explored on foot. The old city, on the right bank of the Cibin River, consists of an Upper Town and a Lower Town, which are distinct from one another. There are old medieval streets and a church dating back to 1292.
The international airport three kilometres west of the city has direct connections to Germany, Austria, England and Spain, as well as to other Romanian cities.