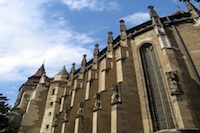 Book cheap flights to Romania by selecting an airport destination in Romania below. Compare flights to Romania from over a hundred airlines worldwide and book online with us today.
Home of the notorious Count Dracula, Romania is one of the most picturesque and diverse countries in Eastern Europe. It is easy to conjure up Vampire tales and legends in Transylvania, especially in the city of Braşov with its medieval delights, Gothic churches and narrow streets. You can even visit Dracula's castle in Bran.
However, there is so much more to this country than the tales of Count Dracula. Its capital Bucharest is a magnificent city, with the second biggest building in the world at the Palace of Parliament.
Romania is very easy to get to with two airports in Bucharest – the largest being Henri Coandă International Airport, also known as Otopeni Airport, as well as Aurel Vlaicu International Airport, which is closer to the city. There are numerous other airports across the country.
Outside of the capital there is plenty to see and do. Catch a glimpse of European medieval life at Maramureş, and don't miss the biblical scenes and icons at the Bucovina Monasteries or the medieval citadel of Sighişoara. Despite sharing its border with five other countries, Romania still manages to have a stretch of coast along the Black Sea. One of its most popular resorts here is the golden sands of Mamaia.
About a tenth of its population works in agriculture, other key industries include; making electrical machinery and equipment, footwear, textiles and refinery of petroleum. Romania also makes some good local wines that are worth sampling.