Suceava Cheapest Fares
To search and book flights to Suceava in 2020 and 2021, please enter your requirements and click the search button above.
Locals bring the past to life in Medieval Festival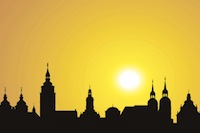 The city of Suceava is a destination in the North East of Romania and was once the capital of the Moldovian state. The inhabitants are proud of their heritage, which they celebrate in festivals throughout the year. One of the main events during the year is the 'Stefan cel Mare' Mediaeval Art Festival, held in August.
Named after Stephen the Great, Prince of Moldavia from 1457 to 1504 the festival is an event designed to celebrate the history and culture of the area. Spanning 8 days there are numerous performances and activities for all the family to enjoy.
Taking place around the old Royal Court, the churches of Mirauti and St Gheorghe, the festival begins with theatre performances which are then followed by poetry readings and traditional music. A parade throughout much of the city is a highlight as is a military camp set up inside the Citadel, where visitors can witness the lives of mediaeval knights, weapons, costumes and observe examples of mediaeval craftsmanship.
There is always something to see or do during the day and night. Nighttime brings re-enactments of historical scenes where locals dress up in traditional costumes, and perform in mediaeval ceremonies or jousting competitions. Sword fighting and archery lessons are available and other activities include juggling with fire, horse riding, Comedia dell'arte performances, and a treasure hunt for children.
Suceava comes to life during this festival, with locals celebrating and bringing an air of cultural pride and merriment to the city. It is the ideal time to visit Suceava and experience the best this destination has to offer.