Just the Flight's Guide to Zurich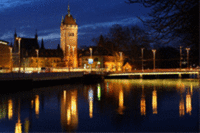 Switzerland has a reputation for being well ordered and efficient, and these two assets can be found in ample supply in the capital city, Zurich.
Situated on Lake Zurich, it is not only one of the most picturesque of European capitals, but for ease of access and exploration it is one of the best. Add to this the fact that Zurich was recently voted Europe's friendliest city, and you have the perfect destination for a city break.
Getting there is simple. There are daily cheap flights to Zurich from all London and regional airports in England, Scotland and Ireland.
The city's airport is small by capital city standards, but it's regularly voted one of the best in the world... living up to that Swiss reputation. Once you have stepped off your flight to Zurich reaching the city is simple as there are several trains per hour from the airport, and the journey only takes 15 minutes.
The Zurich Card (19 SF for 24 hours) provides free travel on public transport, and entry to 46 museums. If you like to take guided walking tours, the card secures you a 50% discount on a tour through the Old Town. That has to be the bargain of the day. There's also a free bike hire scheme in operation.
Weather wise, the best time to visit is mid-summer, but spring and autumn can also be an especially pleasant time for anyone considering a short break by taking one of the cheap flights to Zurich.
As befits a city that has a huge commercial sector, the city is full of hotels, most of which have good websites that allow booking online.
Once you've arrived on one of the flights to Zurich, what is there to see and do?
Culturally there is a diverse choice. With more than 50 museums and over 100 art galleries there is more than enough to satisfy those in search of art and history. Switzerland's most important artworks are housed in the Kunsthaus Museum of Fine Arts, and the Reitberg Museum, and they have a constantly changing programme of exhibitions as well as the regular exhibits
For a closer look at Swiss industry and culture, the Schweizerisches Landesmuseum, or Swiss National Museum, next door to the railway station, provides an intriguing glimpse into the history of Switzerland, from Roman artefacts to the clock and watch making industry.
For opera lovers, the Zurich Opera House enjoys an international reputation in both opera and ballet. The Schauspielhaus is the country's largest theatre, but there are also smaller theatres in the west of the city where the old shipyards have been converted into theatres, restaurants and a jazz club.
The centre of Zurich is compact, perfect for a stroll around the cobbled streets, taking in the sights, window shopping and drinking coffee at one of Zurich's many coffee shops. For espresso aficionados try Café Giro, on Stampfenbachstrasse, voted one of the best in the city.
Architecturally, the Grossmunster Cathedral is outstanding, with stained glass windows designed in 1930 by the Italian artist Giacometti. If you are interested in stained glass, stop by the Church of Our Lady on Fraumunster Strasse. The chapel windows were designed by Marc Chagal and are well worth seeing.
For some retail therapy, head over to the Bahnhofstrasse. Shopping doesn't get much better than this. With top designer names, this is luxury shopping on a grand scale. But don't be put off; there are plenty of affordable goods on offer in the streets around the Bahnhofstrasse.
For chocoholics, Sprungli chocolate shop in the centre of Zurich is a must. The shop sells chocolates to die for - not cheap, but heaven has a price.
For a more tranquil view of Zurich, take a steamer (and a camera) out on the lake. There are fabulous views of snow-capped mountains, even in the summer. The lake is a lovely place to spend an afternoon just soaking up the scenery.
Dining out in Zurich can present a problem - there are over 2,000 restaurants and bars to choose from. The Neiderhof, in the Old Town is a good area for eating places, and although it's a bit touristy there are some good cheap restaurants and plenty of old-world Swiss charm.
Because of its international status as a centre of commerce, Zurich is a lively place at night. The Widder Hotel is a popular place to start the evening, after that there is a good choice of music venues - 'Moods' on the Schiffbaustrasse is one of the best bar clubs for jazz, but there's something for every musical taste to be found there.