Lugano Cheapest Fares
To search and book flights to Lugano in 2020 and 2021, please enter your requirements and click the search button above.
Easter in the City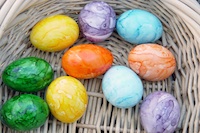 Easter attracts many visitors and travellers to Lugano each year, and it is because of this that the beautiful, picturesque city organizes an event called Easter in the City.
Every day from 11am to 6pm throughout the Easter holiday season, the city centre is transformed into an amusing and exciting stage. Every city square hosts a different entertainment programme, giving the public an opportunity to buy many objects and numerous products of local tradition. These are exhibited in more than 100 stalls that are set up in Piazza Dante, Piazza Riforma, Via Pessina, Via Nassa, and Via Soave. The pedestrian centre is also animated by traditional and folk groups. The activities that are dedicated to the children include face painting, egg painting, Henna tattoos, a bouncy castle, a merry-go-round, and an entertainment bus called a ludobus. There are also three rabbits that distribute chocolate eggs, and a chick that takes photos that can be downloaded from the event's website at the end of the event.
Approximately 25 sculptors and painters work throughout the day to recreate the atmosphere and solemnity of Easter in visual form. All of the artists then gather to show off their works along the lakeshore. Additionally, three orchestra concerts are held in Piazza Riforma. These musical engagements include performances by the Lugano Civic Philharmonic, the Castagnola Philharmonic, and the Pregassona Philharmonic.