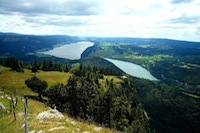 Book cheap flights to Switzerland by selecting an airport destination in Switzerland below. Compare flights to Switzerland from over a hundred airlines worldwide and book online with us today.
Switzerland is a landlocked country and is situated in Western Europe and bordered by Germany to the north, France to the west, Italy to the south, and Austria and Liechtenstein to the east.
Switzerland's largest cities are its capital Zurich, Geneva, Basel, Bern and Lausanne.
Switzerland has 8 largest airports which are Zurich, St. Gallen-Altenrhein, Basel, Bern, Samedan-Engadin, Lugano-Agno, Sion and Geneva.
As Switzerland is quite small, all of its main attractions are within short distances of each other, making it easy to travel around, especially by train. The Alps are probably the most famous tourist attraction in Switzerland and cover three-fifths of the Swiss territory, they are best seen using one of the scenic trains. The attractive town of Lucerne that is situated on both sides of the Reuss River is central Switzerland's main city and has direct water links to all of the early Swiss historic sights. Zurich is Switzerland's biggest city and is famous for its financial institutions, shops and wonderful art galleries and the majority of its interesting sights can be found in the old town around the river and lakefront. Geneva has an advantage due to its exceptional location. Visitors of Geneva can enjoy its beautiful mansions, the harbour as well as its fountain.
Chemicals, measuring instruments, and health and pharmaceutical are just some of the industries that are important in Switzerland with the largest exported goods being chemicals.