Monterrey Cheapest Fares
To search and book flights to Monterrey in 2022 and 2023, please enter your requirements and click the search button above.
Modern Mexican City With Something for Everyone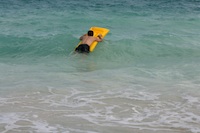 Monterrey is Mexico's third largest city, a modern metropolis with reminders of its colonial past and a powerhouse for the Mexican economy. Known as "The Sultan of the North" this destination is an excellent tourist centre, with lots to see and do, both inside and outside the city.
Visitors who enjoy exploring the great outdoors will find many opportunities to do so. More adventurous tourists will enjoy exploring the caves or mountain biking, as there are many trails to follow in the mountains outside the city. Hiking the trails is popular too, while for those who prefer not to leave the city there is a terrifying bungee jump at one of the local hotels.
Rodeos and bullfights are other popular activities within the city, while in the surrounding countryside there is stunning scenery, impressive waterfalls and several hot springs.
There are numerous cultural offerings in this destination, including concerts featuring classical, rock and jazz, along with modern multiplex cinemas and an IMAX and museums exploring the rich history of the city. There are a number of educational and entertaining attractions; for example, a zoo, an amusement park and a water-park, all providing dozens of opportunities for fun and games.
The nightlife in Mexican towns and cities is always lively and Monterrey is no exception. The many bars and clubs provide good food and drink and a party atmosphere that continues long into the night. Accommodation to suit all pockets adds to the attractiveness of this Mexican destination.