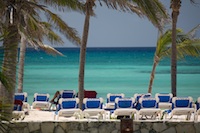 Book cheap flights to Mexico by selecting an airport destination in Mexico below. Compare flights to Mexico from over a hundred airlines worldwide and book online with us today.
Mexico – or the United Mexican States as it is called in its entirety – is a large country in North America, comprised of thirty-one states, which borders the U.S. states of California, Arizona, New Mexico and Texas to the north, as well as the countries of Belize and Guatemala to the south-east. It covers almost two million square kilometres, and has a population of a whopping 111 million – making it the 11th most highly populated country in the world! This is the place to visit if you enjoy exciting, bustling environments and a fast-paced way of life.
With a multi-billion dollar tourism industry, Mexico is no stranger to hosting visitors from all around the world. Be prepared for the adventure of a lifetime as you take in everything this Spanish-speaking republic has to offer, ranging from luxurious beaches bordering the Pacific Ocean, to lush green jungles; pulsating nightclubs to fine restaurants; plunging canyons to awesome coral reefs.
Its capital city, Mexico City, is the third-largest urban area in the world, and is a buzzing hub of wonderfully weird and novel experiences. This ancient Meso-American city is home to almost nine million people, and houses Mexico City Juarez International Airport. Places you might want to visit whilst stopping by are The Pyramid of the Sun and The Pyramid of the Moon, the Mexican National Palace and the enormous Metropolitan Cathedral.
With its superbly warm climate, fascinating and diverse culture, intensely delicious cuisine, and stunning natural attractions, there is no wonder tourists rave so passionately about their once-in-a-lifetime experience of visiting this vibrant country.