Guadalajara Cheapest Fares
To search and book flights to Guadalajara in 2021 and 2022, please enter your requirements and click the search button above.
Guadalajara, Mariachi and Tequila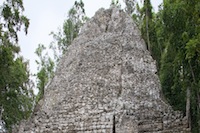 Guadalajara, Mexico's second largest city, is a great destination, boasting a warm climate all year round, plenty of theatres and museums and the Libertad Market, which is claimed to be the largest selection of fresh food, home-made pottery and leather goods and furniture in the Western world. uadalajara has a vibrant nightlife and music scene and is the birthplace of Mariachi music. The city hosts the annual Mariachi International Festival each September, which is when this Mexican destination becomes packed with tourists.
Visitors can enjoy a variety of events over the course of the ten day celebrations, including the los Mariachis VIPs, the United States and Mexico's best professional musicians. Mariachis perform at Catholic masses in the city's churches and cathedrals, along with colourful parades, folk ballet dancers, rodeos and art exhibits. In recent years tourists have started to take train rides to the nearby town of Tequila to sample the famous drink of the same name. The drink is made from the blue agave plant, which gives the surrounding area its fertile blue fields.
Mariachi artists traditionally wore workers' clothes and travelled to look for work, being hired by Hacienda owners to entertain guests at parties. After the 1810 revolution, many of them lost their jobs, so they travelled between towns performing to crowds, singing of revolution and informing the populace about what was happening. As they became more popular they adopted lavish costumes and began to play more instruments, yet they have always told stories of the Mexican people. Nowadays, around 500 Mariachis perform during the festival, with artists coming from North and South America or even further afield; for example from Spain and Croatia.