Oaxaca Cheapest Fares
To search and book flights to Oaxaca in 2022 and 2023, please enter your requirements and click the search button above.
Oaxaca offers historical culture like no other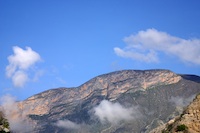 Oaxaca, Mexico is of great historical significance to the country with its indigenous people, Colonial, and pre-Columbian architectural sites. This destination is one for those who crave authentic culture, historical sites, and unforgettable scenery.
Located along the Pacific Ocean in the south-east part of Mexico, Oaxaca is surrounded by Chipas to the east, Guerrero on the west, and Veracruz and Puebla on its northern borders. This magnificent location offers more than 93,000 square kilometres of valleys, mountains, and forest. Along the way, you will also encounter an abundance of folklore and centuries old Mexican traditions.
The city was discovered in 1529 and has become famous for its Monte Alban and the Zocalo, both of which are famous UNESCO World Heritage Sites. These unique Colonial centres have been adorned with eye-catching green stones that have been integrated into its enormous walls.
There are many activities and attractions in this destination. A good place to begin is with the archaeological ruins of Monte Alban, which has been deemed by many as the first great city of the Americas. Zocalo and Alemeda Park should also be on the list because of its superb architecture and restored cathedral. The old convent of San Juan de Dios remains the oldest church in the city. A visit to the central historical district will bring you up close and personal to many of the areas distinct art and cultural attractions such as the Rufino Tamayo Museum, the Philately Museum, and the Casa de Juarez.