Merida, an eclectic mix of old and new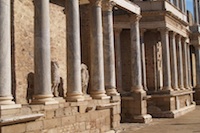 For generations, scientists have stood in Merida, Mexico and looked out to the horizon for archaeological finds, when, as it turns out, 170 Mayan sites were buried just beneath their feet. As the city of Merida looks to modernise, these discoveries demand protection from urban development.
Sitpach is one of the most important site discoveries, because everyday objects found there show that Merida was settled as long ago as 400 B.C., 600 years before experts traditionally believed. That means that in 2012 the Municipality of Merida will celebrate its 2,412th anniversary.
Known as the 'White City' for its extensive use of white paint and limestone, Merida echoes the splendour of Colonial Mexico and sends a strong message that it remains close to its roots. This city is also a trendy holiday destination. Among archaeological sites and haciendas, popular chain retailers and shopping malls thrive.
Visitors converge on the many fascinating attractions such as the mansions on Paseo de Montejo, the handicrafts market and the caves of Balankanche. Merida boasts excellent bus, taxi and air travel to all destinations, as well as wonderful visitor facilities. These things will always require updating and upgrading and potentially knew infrastructure, as new attractions are unearthed.
It seems Merida will always be striving to find the balance between protecting its ancient history and providing the modern facilities and infrastructure tourism demands. Without the throngs of happy, well-kept holiday makers, the fascinating and ancient history of this destination would be known to the wider world only through books and television. Where is the fun in that?