Huatulco Cheapest Fares
To search and book flights to Huatulco in 2022, please enter your requirements and click the search button above.
Eco-tourism helping Huatulco, Mexico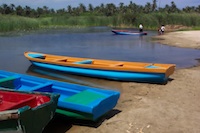 Huatulco, Mexico, may not be as popular as Cancun but it is an emerging tourist destination. Thanks to eco-tourism, the place is now enjoying rapid growth in its tourism industry. Huatulco's growing popularity has resulted in more flights being booked to the area all-year round.
Much like other Mexican municipalities, Huatulco used to be an agricultural hub. As time went by, however, it became harder for the farmers in the area to make a living out of tilling their land. The farmers then saw that there is a future in eco-tourism and started building huts for the visitors who came by. Tourists are usually served local dishes and are escorted around the area on horseback for daily excursions. For holidaymakers who want to experience a less-commercial tour or adventure, going to this part of Mexico is a definite must.
Although the place is not as developed as other Mexican resort destinations, the south eastern municipality is a great choice for those who do not like crowded places. The serenity of the place adds to its charm.
The municipality is a wonderful destination for nature lovers. Rafting and trekking its jungles are just a few of the things holidaymakers can enjoy while in the area.
The nine bays in this place host more than 36 beaches with fine, golden sand and blue green waters. One of the most beautiful beaches in the area is Bahia de San Agutin.