Mazatlan Cheapest Fares
To search and book flights to Mazatlan in 2022, please enter your requirements and click the search button above.
Mazatlan offers the flavours of Mexico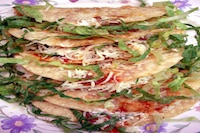 A unique culinary tour aims to uncover the secrets of Mazatlan, Mexico's flavourful meals that keep holidaymakers coming back. So much more than an education in cookery, the tour covers local history and culture through music, dance and sport.
The flavours and aromas of the Mexico Culinary Tour will uncover the significance of traditional delicacies, in Mexico's colonial city. The aim is to promote the virtues of Mexican food in all of its variations, 32 distinct cooking styles to be exact. Chef Patrician Quintana guides this culinary tour, a dedicated teacher of the cooking styles.
Mazatlan is a fishing village and therefore, no celebration of the city's cuisine would be complete, without seafood dishes. This tour, however, takes things one step further. The tour begins with the destination's seafood vendors and is followed by a visit to the traditional fishing corridor. Breakfast in El Quelite is entirely locally grown and prepared, with centuries-old techniques. The meal is then put into historical perspective, with a cultural exhibition of music, dance and an Ulama performance (an indigenous ball game kept alive by the region's communities). Further meals take place along the tour through the heart of Mazatlan, among the destination's many seafood restaurants and wrapping up in the historic centre of town.
As culinary tourism increases in popularity, tours similar to this one will be cropping up in a number of regions. The uniqueness of this tour is its inclusion of culture and history to tell the story and express the significance of the dishes, taking culinary tourism to new heights and enriching the lives of all who love good food.