Fashionistas fly to Medellin, Colombia, for the annual Colombiamoda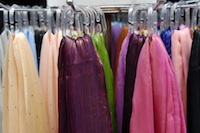 Medellin, Colombia, may not be a popular tourist destination but it is a hotspot for fashion enthusiasts around the globe.
Considered one of Latin America's fashion centres thanks to its production of textiles, flights to Medellin, Colombia, have soared in recent years. It's not just traders who go to the Colombian city but designers from different European nations as well.
The Colombiamoda is a popular annual event that attracts thousands of tourists. The commercial exhibition is what this part of Colombia is known for. Aside from its thriving fashion industry, however, the Colombian metropolis and the nearby towns also feature a range of places that tourists should visit.
To get a feel of the city, tourists can enjoy a tour around its most popular streets. One of the most popular stops for these tours is Parque de Los Pies Descalzos where tourists walk barefoot on small rocks while passing through a bamboo forest.
Other places to visit include the Planetario de Medellin, Museo de Antioquia, Piedra de Penol and Mariposario Selva Viva. The latter is a butterfly sanctuary that houses 40 different butterfly species.
Located just one hour from the city is the geologic formation called Piedra de Penol. The place is perfect for hikers because the scenery is just breathtaking.
For the less adventurous, Museo de Antioquia is the place to go. The museum showcases artwork of Colombian artists.
The planetarium located 2.4 miles from the city centre right on Carrera Street is also a great place to visit. This is one of the most popular destinations for families.