Cartagena – Colombia's Treasure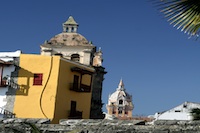 Those who have visited Cartagena de Indias on the Caribbean coast of Colombia agree that this fairy tale destination, with its roots going back more than 4000 years, well deserves its UNESCO World Heritage Site status.
Archaeologists suggest that the Puerto Hormiga civilisation, an ancient hunter-gatherer people, were the first to put down roots in this area thanks to its mild climate, which probably supported abundant wildlife and vegetation. Today's Cartagena was founded by the Spanish in 1533, and named after Cartagena in Spain.
Modern Cartagena is a beautiful destination, contemporary in some respects, with skyscrapers, Miami-style beach strip, bars, restaurants, discos and hotels, but also encompassing the old town, with its ancient wall. Known as Las Murallas, the city wall was built around the sixteenth century to protect the townspeople against pirates and foreign marauders intent on plundering the riches amassed through gold and slaves.
Best explored on foot, the old town is packed with colonial architecture, palaces with overhanging balconies, monasteries, old churches, open plazas, balconies festooned with bougainvillea and large mysterious wooden doors leading into private domains.
There are two great ways to tour the city: one option is by horse-drawn carriage through the streets of the old city on a one hour route; and the other is a night tour, lasting three to four hours, in a chiva – a big, colourful, traditional bus with a resident band playing vallenato music.