Cali Cheapest Fares
To search and book flights to Cali in 2022 and 2023, please enter your requirements and click the search button above.
Salsa the Night Away in Cali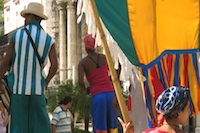 It is said that the women of Cali are the most beautiful in South America. Whether that is because of the mix of European, African and native heritage, because of the city's warm and gentle climate and relaxed and friendly atmosphere, or perhaps the predilection for salsa dancing in Cali, it is certainly true that in this destination the locals are exceptionally good looking people. Happily for visitors, the city's enthusiasm for dancing and partying in general means that there is a good likelihood of having at least a dance with one of Cali's residents.
There is no better time of year to come here than during the annual Feria de Cali which attracts party loving people from all over the world. The festival takes place between Christmas and New Year and the whole town joins in the fun of the week long celebrations. There are parades, pageants, concerts, exhibitions, shows and of course, lots and lots of opportunities to show off your salsa dancing skills.
While many Latin American city fairs celebrate livestock, the Feria de Cali celebrates parties, parades and salsa. There is a beauty pageant, endless different salsa acts to see and dance to, a parade, sports and arts competitions and fiercely contested salsa, rhumba and tango dancing competitions to really turn the heat up. There really is no better destination to see true South American passion in all its guises than the Feria de Cali.