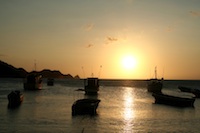 Book cheap flights to Colombia by selecting an airport destination in Colombia below. Compare flights to Colombia from over a hundred airlines worldwide and book online with us today.
Colombia is located in the north of South America, between Panama and Venezuela and bordering the Caribbean Sea. It also borders the North Pacific Ocean between Ecuador and Panama. With 3,208kms of coastline and a tropical climate that grows cooler in the highlands, Colombia is a popular travel destination and one that is gaining in popularity.
The capital and largest city, Bogota, is situated to the west of the Savannah of Bogota. As well as being one of the most populous cities in the country, it is also home to El Dorado International Airport. Other major international airports in Colombia include El Edén International Airport, Palonegro International Airport, Camilo Daza International Airport, José María Córdova International Airport and Gustavo Rojas Pinilla International Airport.
There are several World Heritage sites situated in Colombia, the most notable being Los Katios National Park; Malpelo Island and Santa Cruz de Mompox. Bogota has many tourist attractions; for example, Bogota Botanical Gardens; Capitolio Nacional; the Maloka Museum and the Jorge Eliecer Gaitan Museum. Other places of interest are the Colombian National Coffee Park and the Salt Cathedral of Zipaquira.
The service industry is extremely important to the country's economy, with more than half the total workforce being employed in this sector. Agriculture is the smallest sector in terms of employment and revenue, but Colombia does export a range of commodities, such as coffee, petroleum, coal, nickel, emeralds, bananas and flowers. It is also the third largest exporter of oil.