Bogota Cheapest Fares
The lowest fare found to Bogota (BOG) was £604 with Delta. The fares shown here are the lowest flight prices to Bogota obtained in actual searches by Just The Flight customers. To search and book flights to Bogota in 2022 and 2023, please enter your requirements and click the search button above.
Bogota Carnival in August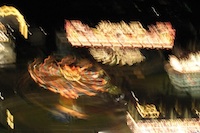 Every August, Bogotá holds the Bogotá Summer Festival, which happens concurrently to the Bogotá Carnival, the Carnaval de Bogotá' in Spanish. The Summer Festival is a celebration of the city's founding by Spain. Most of the events for Carnival take place at the Parque Metropolitano Simón Bolívar. Each year has a different theme, to promote ideas such as unity, creativity, and reconciliation The many events include dances, parades, and games; there are also samplings of food from various regions of the country. Often, festivities begin as early as July and last until the main date in August. With the Bogotá Carnival and the Summer Festival, the city hopes to promote itself as a vibrant destination, full of cultural, musical and historical diversity.
The Bogotá Carnival has a long history. Historian Marcos Gonzales suggests that it stretches back hundreds of years and was begun roughly a year after the foundation of the city by the Spanish Crown. The diversity of the festival grew as the local Indian chief was invited to participate. The carnival adopted its modern format in the year 1916 with the addition of an elected beauty queen. The annual carnival took a holiday for many decades after it was suspended in the 1930s due to public disorder.
If you're considering Bogotá as a destination you should consider coming during the festival to see the best and most vibrant aspects of Colombian culture in all its glory. In holding the celebrations every year, Bogotá wishes to welcome visitors, to give residents a feeling of community, and to become a prime vacation destination