Nuremberg Cheapest Fares
The lowest fare found to Nuremberg (NUE) was £154 with Austrian Airlines. The fares shown here are the lowest flight prices to Nuremberg obtained in actual searches by Just The Flight customers. To search and book flights to Nuremberg in 2022 and 2023, please enter your requirements and click the search button above.
Enjoy Annual Festivals in Nuremberg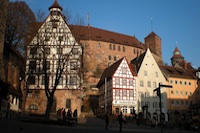 The city of Nuremburg in Germany was devastated during World War Two. In the six decades since the end of the war, Nuremburg has risen from the ashes and today stands as an enchanting modern city with much to offer travellers.
Nuremberg has become a modern and prosperous metropolis and is a popular destination for many travellers. It offers a collection of Gothic churches, and there are amazing works of art to be found inside the National Museum. While there are many modern elements to this city, it is the city's heritage that usually leaves the most lasting impression. There are many traditional sites to see when visiting Nuremberg, including a number museums filled German art and historical artefacts.
The city is also bursting with annual festivals and events that make it a great holiday choice. Each year in May the city's churches, museums and cultural institutions in general open their doors to the public until the wee hours of the morning during the Blue Night of Culture. Visitors can expect to see blue as the streets are filled with light installations and a variety of musical and theatrical performances that attract more than 120,000 people each year. Even the drinks are blue!
For lovers of organ music, Nuremberg International Organ Week is the oldest and largest sacred music festival in Europe. Those wanting to enjoy this festival will have to find flights to Nuremberg during the month of May. This event attracts people, including renowned artists, from all over the world and is a once in a lifetime experience.