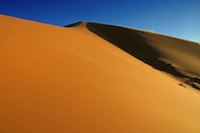 Book cheap flights to Algeria by selecting an airport destination in Algeria below. Compare flights to Algeria from over a hundred airlines worldwide and book online with us today.
Algeria is a charming country providing visitors with unique blends of landscape that include hillside olive groves, fishing villages, the Hoggar Mountains and the Sahara. There is something for everyone in this dramatically vast country.
The most striking feature of Algeria is the desert, specifically the Sahara, which covers more than 75 percent of the country's landscape. In the north of Algeria, visitors will find a majority of the country's treasures in the form of ancient statues, monuments, and city ruins. It is also a very lush and fertile part of Algeria.
The major industries of Algeria are petroleum, natural gas, and light industries. Located in northern Africa, the country is bordered by the countries of Tunisia, Morocco, and by the Mediterranean Sea. The Algiers International Airport is the main gateway into the country but Algeria has dozens of airports that offer services around the country.
The capital city of Algiers is often referred to as the White City due to its whitewashed facades, and this is where tourists can explore and take in typical Algerian life. The city of Algiers has been a port city since the Roman times and has kept this charm with its numerous mosques, criss-cross alleyways, and fabulous Kasbah.
A visit to the town of Beni-Isguen, which is close to the village of Ghardaia, is where the year-round auction market is located. The Roman city of Djemila near Setif should not be missed for its Roman ruins. For something distinctively unique, a lazy camel trek across the Sahara sands will provide a once in a lifetime experience.