Annaba Cheapest Fares
To search and book flights to Annaba in 2020 and 2021, please enter your requirements and click the search button above.
Annaba Celebrates Independence Each Fifth of July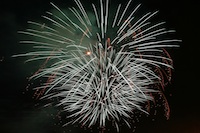 The fifth of July is Algerian Independence Day, and the city of Annaba is one of the best destinations for tourists from the UK and Europe to visit in order to enjoy the festivities. Located on the Mediterranean coast near the north-eastern tip of this North African nation, Annaba is easily reached via airline flights, and since it is the fourth largest city in Algeria, the Independence Day events are massive, attracting many visitors from France and Italy amongst other European nations.
To celebrate freedom from over 130 years as a French colony, Algerians in Annaba take to the streets wearing green, the national colour. The day is a public holiday, and with government offices and schools closed, the street crowds number in the thousands in several major venues throughout the city. Restaurants, hotels, and other amenities for tourists generally remain open, but visitors hungry for a bite to eat may want to try some of the traditional Algerian food sold at stands set up for the crowds on this day. Dishes such as cold salads made with chickpeas and potatoes, stuffed lamb, and fresh dates are good choices at this destination.
Tourists who speak French may also want to watch the national address delivered from the capital and broadcast throughout the nation on this important day. Revolution Day, celebrated each year on the first of November, and Independence Day are the two largest public holidays in Annaba, Algeria.