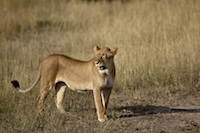 Book cheap flights to Kenya by selecting an airport destination in Kenya below. Compare flights to Kenya from over a hundred airlines worldwide and book online with us today.
Kenya is an East African country that shares borders with Tanzania, Ethiopia, and Uganda. Its coast faces onto the Indian Ocean. The country has very diverse landscapes and an abundance of wildlife.
Nairobi, the capital, is a fairly busy modern city with plenty of luxury hotels, restaurants and shops. Kisumu is the main western city, located on Lake Victoria, which is one of the chief attractions. Mombasa, located on the seacoast, is the oldest port in the country.
Jomo Kenyatta International Airport, located in the capital, is where most incoming international flights land. Most of the larger cities have airports that handle domestic flights. If you choose to travel to a location outside the capital, you are quite likely to pass through one of these smaller airports.
The true treasures in Kenya are its many national parks and wild attractions. Many visitors come here every year just to see the wildlife. The Masai Mara Reserve, which is an ancestral home of the Masai tribe, has numerous lions and other big cats. Lake Nakuru has very large flocks of flamingos that you can see, as well as hundreds of other bird species. Nairobi National Park has game drives that you can go on if you cannot commit to a longer safari. If you are a mountain-climbing enthusiast, you will not want to leave without visiting Mt. Kenya. Another experience that most travellers will appreciate is visiting a tribal village. Here, you can learn more about tribal customs and lifestyles.
The country has several diverse industries that contribute to its economy. Tourism is the largest industry in the country. Farming, particularly involving sugar cane, pineapples, and cotton, also accounts of much of its trade.