Mombasa Cheapest Fares
The lowest fare found to Mombasa (MBA) was £945 with Ethiopian Airlines. The fares shown here are the lowest flight prices to Mombasa obtained in actual searches by Just The Flight customers. To search and book flights to Mombasa in 2022, please enter your requirements and click the search button above.
Mombasa's Fort Jesus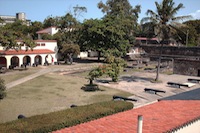 Mombasa, Kenya is the largest city with numerous sights to visit including Fort Jesus. It is a symbol of the strength of the Kenyan coast as it survived many battles from the late 1590s.
Traders visited Mombasa from the 12th century. It was so popular a port that battles waged between Arab-Swahilis, Omanis, Portuguese, and British in order to control it. These battles and the need to protect the port created Fort Jesus. This is the most popular tourist attraction of the city.
Fort Jesus is the dominating feature of Khrumah Road and the harbour. It has metre thick walls made from coral, though it has been partially ruined over time. The fort was built in 1593 by the Portuguese. It changed ruling hands nine times from 1631 to 1875 before coming under British control. It is now a museum and historical site. Visitors can enjoy various collections such as ceramics dug up by archaeological digs.
Another historical place to visit while in Mombasa is Mombasa Old Town Conservation Society. The society protects the old architecture of Mombasa such as the East African traditional houses. The society also works to keep what is left of these homes in good shape for those who enjoy wandering around the older sections of Mombasa.
Mombasa has the Khonzi Mosque, Old Law Courts Gallery, and the beach to provide a well rounded holiday destination for families, couples, and single travellers.