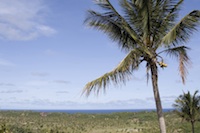 Book cheap flights to Mozambique by selecting an airport destination in Mozambique below. Compare flights to Mozambique from over a hundred airlines worldwide and book online with us today.
The Republic of Mozambique is a country in south-western Africa that borders onto many others –Tanzania, Malawi, Zambia, Zimbabwe, Swaziland and South Africa. It also benefits from a stunning Indian Ocean coastline.
This glistening African country has a population of almost 23 million and its official language is Portuguese – a result of Portuguese colonisation in the early 16th century.
After gaining independence from Portugal in 1975, the development of this country had been hindered by a relentless civil war, and their troubles were further magnified by a severe drought. However, these problems are now a thing of the past – the end of the drought and their peace treaty of the early nineties drew a line under Mozambique's difficult past, and breathed a blast of fresh air into its economy, and standard of living. Nowadays, Mozambique is barely recognisable as the country it used to be, as it is now a thriving nation, and a lively and beautiful holiday hotspot.
Sitting on the coastline of Mozambique is its capital city, Maputo (formerly known as Lourenço Marques). This beautiful haven of culture is served by Maputo International Airport, and is home to well over a million Mozambicans. Maputo is known as 'The City of Acacias' due to the plentiful acacia trees often found lining its avenues, and has also been dubbed 'The Pearl of the Indian Ocean'.
Untouched by tourism, Mozambique can offer you an authentic taste of African culture. Its main industries include – but are not limited to – textiles, cement, glass, and tobacco manufacture, and this picturesque country boasts a climate varying from tropical in the north to subtropical in the south.