Maputo's Avante Mozambique Music and Culture Festival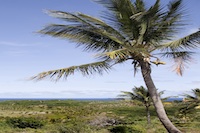 Mozambique lies on the south-eastern side of Africa and is home to stunning natural beauty and warm, welcoming people.
Famous for its African wildlife, the capital of Maputo is the perfect destination for enjoying wild Africa while still having modern conveniences close to hand.
Recently, Maputo has begun an annual event celebrating the arts and cultures of all the people who call Mozambique home. It's the Avante Mozambique Festival, running for two full weeks at the end of August.
Mozambique has ten provinces, each of which has a unique history and culture. Avante Mozambique will showcase each province and culture, and also highlight some of the famous musicians who have come out of this country.
Visitors to this event will hear everything from blues and jazz to traditional African rhythms to more modern sounds like electric guitar and steel drums. All of the musicians will have music for sale, and food and souvenir vendors will have every manner of keepsake on sale.
Mozambique is a country that has many cultures living together peacefully, and this festival celebrates both the diversity and the harmony of the peoples of Mozambique. These 14 days are sure to become a favourite of thousands of visitors every year.
Where else can you see amazing wildlife, listen to a huge variety of music in the sunny outdoors, and munch on traditional African fare while on holiday? Plan a flight to the destination of Maputo for the Avante Mozambique festival and create memories to last a lifetime.