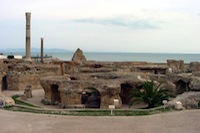 Book cheap flights to Tunisia by selecting an airport destination in Tunisia below. Compare flights to Tunisia from over a hundred airlines worldwide and book online with us today.
Tunisia is a country in Northern Africa and is bordered by Italy and Malta to the south, Libya to the south-east and Algeria to the west.
The capital city of Tunisia is Tunis. There are a few other large cities, which include Sfax, Susah, Kairouan, Bizerte and Gabes.
Tunisia has a rich cultural history and has some of the most beautiful Saharan desert scenery, with the central western towns of Tozeur and Douz surrounded by beautiful Saharan dune scenery. The main places to visit in Tunisia are Tunis, Djerba, and Kairouan. The main airports in Tunisia are Tunis-Carthage International Airport in Tunis and the Monastir Habib Bourguiba Airport in Monastir.
Tunis is the capital of Tunisia and is located on the Mediterranean coast, although small and compact, there are still a few places to go and see in Tunis which includes the Bardo Museum, Dar Ben Abdallah, Zitouna Mosque and the Cathedral of St. Paul. Djerba is an island that is located in the south of Tunisia and has beautiful sandy beaches and peaceful countryside; notable places to visit in Djerba include the Houmt Souk museum, Guellala, and Djerba Explore. Kairouan is a Muslim holy city based in Tunisia and selections of tourist attractions here include The Great Mosque, The Mosque of the Three Doors, Medressas and Bi'r Barouta.
The main industries in Tunisia include agriculture, cement, food processing, mining, oil refining, phosphate processing, steel, textiles and tourism.