Djerba Cheapest Fares
To search and book flights to Djerba in 2020 and 2021, please enter your requirements and click the search button above.
Immerse in a World of Nature in Beautiful Djerba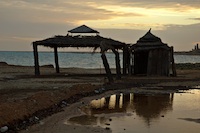 Djerba is an island in southern Tunisia famous for its natural beauty. Featuring an unspoiled countryside and miles of beautiful, sandy beaches, Djerba is a great destination for ecotourism and for travellers who just want to have a relaxing, slow paced vacation.
One of the things Djerba is known for is its beautiful beaches. Djerba's best beaches, usually owned by tourist resorts, can be found in the northeast part of the island. However, there are exceptions – most notably the Beach of 5,000 Years, and the Municipal Beach. Complete your beach experience by witnessing Djerba's famed dramatic sunsets for yourself from the beach. Or maybe participate in some water sports such as wind-surfing and water-skiing.
As stated earlier, Djerba is reputed to be a great destination for ecotourism. This could not be truer. Visit Ras Rmel, also known as the Flamingo Island. However, Ras Rmel isn't actually an island – it's a peninsula where one can enjoy truly unspoiled nature. The best way to visit Ras Rmel is by a boat trip. Boat trips to Djerba are an unforgettable experience, the trips usually including tours of the island and lunch on the peninsula, which travellers really enjoy.
There's also a lot to do in Djerba's main town. Travellers can go to Houmt Souk, a museum with colourful markets, which also contains a replica of the real Habib Bourguiba Street in the capital, Tunis. Also visit the Fadhloun Mosque, as well as the La Ghriba Synagogue.
Djerba offers travellers the opportunity to explore truly unspoiled nature, a good experience that results in travellers wanting to return again and again.