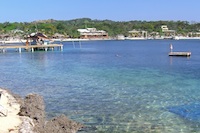 Book cheap flights to Honduras by selecting an airport destination in Honduras below. Compare flights to Honduras from over a hundred airlines worldwide and book online with us today.
Honduras boasts a unique location in Central America, with coasts on both the Atlantic and Pacific Oceans. Its neighbouring countries are Guatemala, El Salvador, and Nicaragua. The country's unique location gives it both beautiful beach areas and rugged highlands. It has enjoyed its status as an independent nation since 1838.
The main city and capital is Tegucigalpa, which is home to the international airport. Another major, important city is San Pedro Sula, which is in the north-western area, in the Sula Valley. Like the capital, this city is a major transportation centre.
The country is a very versatile place to visit on a holiday. The Bay Islands, located in the Caribbean area of the country, are popular snorkelling and scuba diving locations. If you are interested in the ancient Mayans, ruins are located at Copan. The many rainforests found throughout the country should not be missed. Cusuco National Park, which is home to a cloud forest, is located in the Sula Valley. Lake Yojoa is located in between the two biggest cities, with nice rainforest scenery. You will also want to make sure that you see the Rio Platano Biosphere Reserve, which has one of the largest concentrations of tropical wildlife in the country.
Historically, the country has relied heavily on banana and coffee exports. The United States is its main trade partner. The country has started to export other goods, including wire harnessing used in cars, as well as various types of clothing. Tourism also accounts for a good part of the nation's income.