San Pedro Sula Cheapest Fares
To search and book flights to San Pedro Sula in 2022 and 2023, please enter your requirements and click the search button above.
The Natural World meets a Vibrant Honduran City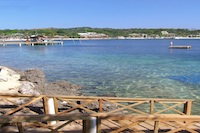 As the second city in the Central American state of Honduras, San Pedro Sula is the country's business powerhouse and consequently has developed excellent facilities for travellers. Situated in the north-western part of the country and close to Guatemala and Belize, the city has excellent transport links which have helped it rapid growth.
As a destination, San Pedro Sula is not only attractive to business people. It offers access to a fascinating history, unspoilt jungles and beaches, and a genuine friendly welcome from the people of Honduras. The city itself has many fine restaurants and cafés, theatres, museums and a water park for visitors young and old. June sees the annual Feria Juniana, a month long series of events and celebrations.
Ancient history can be explored near this destination, with the Copán Ruins giving an intriguing insight into Mayan culture and architecture. Local operators offer quality guided tours to Copán, a three hour drive from the city.
Once the delights of San Pedro Sula have been explored from the comfort of good quality hotels, it could be time to take a short trip north to the Caribbean Sea and the pristine white beaches that dot the coastline. Swimming or boating, a trip to the fascinating island of Roatan with its opportunities for scuba diving and other water sports or just soaking up the sun are all attractive options.
Inland, an organised trip out to Cusuco Cloud Forest offers opportunities to see exotic orchids and other indigenous plants and perhaps a chance to see some of Honduras's wildlife where tapirs and armadillos may be spotted.