Tegucigalpa Cheapest Fares
To search and book flights to Tegucigalpa in 2020 and 2021, please enter your requirements and click the search button above.
Christian Festivals bring visitors to Tegucigalpa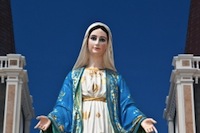 As the capital city of Honduras, Tegucigalpa is a popular destination for visitors to the area. The city has plenty to explore and do, with parks, churches, colonial buildings, and shops to visit while wandering the narrow winding streets of the city. Honduras is a strongly Roman Catholic country so there are a number of Christian festivals taking place during the year that are worth experiencing if you are in the area for one. The most popular festival is the Easter Week Festival.
Taking place over Easter each year, this festival has recently become bigger than ever due to a revival. While locals embraced religion to a greater extent in the aftermath of the devastating Hurricane Mitch that hit the country in 1998, the gradual influx of different religions to the area raised worries that traditionally Christian festivals would lose popularity. However, a good deal of effort and promotion were put into ensuring the Easter Week Festival would remain the biggest and most extravagant of the year.
During Easter week the locals take to the streets of Tegucigalpa for a series of grand processions and celebrations. Many religious services take place during this week and there is a friendly and welcoming atmosphere throughout the city. A visit to nearby Comayagua is also recommended for the stunning and brilliantly coloured carpets on display during this week.
Tegucigalpa is a destination continuing to rebuild itself after a natural disaster, and events such as the Easter Week Festival display the city in its full glory to visitors.