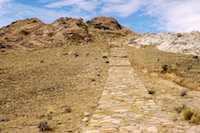 Book cheap flights to Bolivia by selecting an airport destination in Bolivia below. Compare flights to Bolivia from over a hundred airlines worldwide and book online with us today.
Bolivia is located in Central South America, southwest of Brazil and bordering with Argentina, Brazil, Chile, Paraguay and Peru. The country enjoys a varied climate with humid and tropical areas, depending on the altitude. Bolivia's mountainous terrain makes for a varied landscape throughout the country and there are some spectacular sightseeing opportunities for tourists. La Paz, the capital city, is one of the most popular attractions and is situated at the heart of the Andes Mountain range. The country has sixteen main airports serving flights from around the world. Santa Cruz de la Sierra's more modern Viru Viru International Airport is Bolivia's most important and is capable of handling the largest commercial airliners.
Bolivia's service industry employs the majority of the country's workforce and its tourist industry is steadily growing. Some of the best attractions in the country include the ancient city of Tiahuanaco, where tourists can visit pre-Inca ruins; Valle de la Luna, with its maze of canyons and spectacular views; Chacaltaya with its position as the world's highest ski resort and Mercado de los Brujos, which translates as the Witches Market, a crowded market bizarre, which is always popular with tourists. Santa Cruz, the largest city in the country is also a popular destination.
One of the most important industries in Bolivia is mining and the country is also one of the world's leading exporters of natural gas, a relatively newly discovered reserve. The industry is the second largest employer in Bolivia.