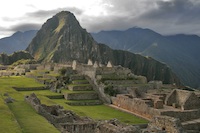 Book cheap flights to Peru by selecting an airport destination in Peru below. Compare flights to Peru from over a hundred airlines worldwide and book online with us today.
Next to Brazil, Peru is a country which is still deeply connected to its heritage and culture. The South American country is littered with colourful markets and nearly half its population is indigenous, living among the country's Andes mountain ranges or on floating islands in Lake Titicaca.
The country's premier airport, in its capital, is Lima International Airport which receives airlines from across the world. The cities of Peru provide a stark contrast to the tribal lives of so many of the population – rife with cosmopolitan neighbourhoods and folk music clubs. Lima is a great place to listen to some live trova (folk) music late into the night.
Arequipa is a lovely little colonial city in the south of the country which has the world's deepest canyons, near impressive volcanoes. However, it is Peru's natural wonders that draw in so many visitors to the country. One of its best known features is the Inca trail of Machu Picchu where you can trample through cloud covered rainforests. Parque Nacional Manu is another great spot for trekking, as well as Santa Cruz trail which takes in the peaks of Cordillera Blanca.
Peru also has what was once the largest pre-Columbian city of the Americas and visitors can go to see the ruins of Chan Chan today. Abundant mineral resources can be found in the mountainous areas, and Peru's coastal waters provide excellent fishing grounds. Some of its key industries include mining and refining of minerals, steel, metal fabrication, petroleum extraction and refining, as well as fishing and fish processing.