Iquitos Cheapest Fares
To search and book flights to Iquitos in 2020 and 2021, please enter your requirements and click the search button above.
Carnival in Iquitos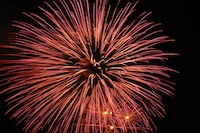 Nowhere but Iquitos, Peru would men and women pelt each other with balloons full of water, talc and dye for a bit of fun. The Carnival season in Iquitos is a spectacular sight. The month of February sees a battle of the sexes, spirited dancing, tree chopping and gift giving. It is an unusual experience and one worth making a holiday trek for.
These pre-Easter celebrations, introduced by Europeans, are widespread in Latin America and have evolved differently in various regions. Iquitos' celebrations are most peculiar. For weeks, men and women take part in water wars, tossing balloons and buckets of water, talc, dye, paint and oil at one another. The Humisha tree, another tradition particular to this destination, is a potted palm tree tied together at the top and hung with gifts for the local children. On the last night of Carnival, people dance around the Humisha tree whilst being doused with water from buckets and balloons. At the end of the celebration, the men take turns chopping the tree with an axe until it falls and the children scrabble greedily for the gifts.
It is a distinctive tradition and one any holidaymaker would be fortunate to experience. The same is also true of Iquitos. This destination offers the lusty landscapes of the Peruvian rain forest and the unique experience of rowing through Belen, Venice of the Amazon. Come for the Carnival season and stay for the city's other numerous appeals.