Air Astana Flights and Routes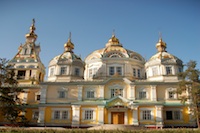 Air Astana is a relatively new national carrier for Kazakhstan. Air Astana's twice-weekly service from Heathrow to Almaty, has been extended to Delhi and it is still the only non-stop scheduled service from the UK to Kazakhstan.
New flights have been introduced to Southern Russia.
Air Astana will now fly new flights between Almaty and Tbilisi. Almaty and Tbilisi, the capitals of Georgia and Samara respectively, will now have the new Embraer 190 thrice a week. The flights from Almaty to Tbilisi that takes four hours and the flight from Almaty to Samar that take three hours and 30 minutes will now operate on Mondays, Thursdays, and Saturdays. The recent months have seen a considerable increase of seven new international routes in Air Astana's network. This is in line with the Airline's efforts to expand its network to Central Asia. New flights have been operating between Almaty and Baku, Bishkek, Dushanbe, St Petersburg, Tashkent and Urumqi. With these new flights, Air Astana has established its presence in Azerbaijan, Kyrgyzstan, Tajikistan, Russia, Uzbekistan, and Western China. These new routes also demand new aircrafts. Air Astana will fly the all-new E-190s with 97 seats alongside the standard fleet of Airbus A320. By 2012, the airline intends to increase the E-190s by another six aircrafts and stop using the Fokker 50 turboprops by then. With the introduction of the new routes and the new aircrafts, Air Astana hopes to enhance their relations with these cities in terms of culture, economics and business. All in all, the passengers flying with Air Astana will be able to enjoy their award winning service on board the new aircrafts. This is set to boost their customer strength considerably as well.