El Al Flights and Routes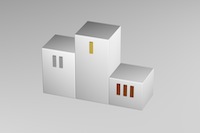 El Al is the national airline of Israel. Has been ranked by IATA as one of the worlds most efficient air carriers - European and worldwide flights
To be nominated for one customer service award, especially when the judges are the customers themselves is great but six shows that an airline is getting their passenger satisfaction very right. El Al is the main airline of Israel and is based at Ben Gurion International Airport near to Lod. The airline operate a number of routes and transport millions of passengers each year.
The APEX (Airline Passenger Experience Association) awards aren't chosen by a select panel of judges but by the people who really know whether an airline works well or not and whether they look after their customers and that is the passengers themselves. The awards are based on the opinions of some tens of thousands of these passengers who were asked their view on all aspects of the customer experience. These included the in-flight entertainment, the food and drink on offer and the service of the flight attendants.
El Al have were nominated in the following six categories: Best Ground Experience, the Middle East regional category, Overall Flight Experience, Outstanding Safety Video, Best In-Flight Magazine, and Best Cabin Ambiance. The range of these nominations shows that passengers of El Al consider the experience of flying with the airline starts before they even reach the plane and continue into the flight and to the service they receive on arrival at their destination.
El Al's Chief Executive Officer confirmed that whilst the company was very happy to be nominated for their service, that the airline would continue to strive to make the experience better still.