Atlanta Hartsfield (ATL) Airport Guide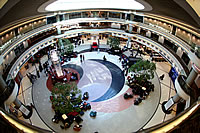 Atlanta Hartsfield International Airport is one of the world's busiest airports and handles more than 90 million passengers annually.
The airport is situated 16 kilometres south of Atlanta and comprises two terminals and six concourses.
Airlines currently serving the airport include British Airways, Air France, Lufthansa.
Hartsfield International Airport Amenities
As such a busy airport, it will come as little surprise to passengers that the facilities are second to none.
There are dozens of shops located in both terminals and throughout the concourses.
Shops include the Sunglass Hut, Bijoux Terner, Host Duty Free and Lather, with several magazine and book stores also located throughout airport.
Passengers will find plenty of restaurants and bars, with something to cater to all tastes. Popular eateries include the Qdoba Mexican Grill, Bistro Del Sol and the Mandarin Express.
Those travelling through the airport will also find the usual array of post offices, banking kiosks and currency exchange desks.
There is an interfaith chapel, lost and found area, visitor information desk and executive conference centre.
Wi-Fi is available throughout most of the airport, although there is a charge for using this service. Atlanta Hartsfield was recently named by Forbes magazine as the top American airport for internet connectivity.
Terminals at Atlanta Hartsfield
The airport comprises two terminals: a north and a south terminal. There are also six concourses. Passengers can travel between zones using the airport's Automated People Mover, which is located underground.
Hartsfield International Transport Links
Atlanta Hartsfield International Airport is home to a Ground Transportation Centre, where passengers can find information and choose from several different options.
Passengers can travel to Atlanta by train, using a rapid service operated by MARTA, which takes around 15 minutes and operates regularly.
Buses also operate from the centre and Greyhound services are available to a number of cities and states.
Taxis can be found outside the airport and there is a flat fee structure in place to a number of areas. A ride downtown Atlanta will cost around $30.
For those with plenty of cash to splash there are several companies providing limousine services, although in most cases this must be arranged in advance.
There are also a number of car hire providers based at the airport, including Avis, Budget Car Rental. Dollar Rent A Car, Enterprise and Thrifty Car Rental.
Passengers can make car hire reservations in the Ground Transportation Centre and take a shuttle bus to the car pick-up area, which is located between the airport's north and south terminal buildings.