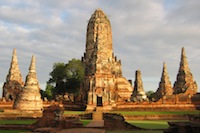 Book cheap flights to Thailand by selecting an airport destination in Thailand below. Compare flights to Thailand from over a hundred airlines worldwide and book online with us today.
The country of Thailand is situated in the Southeast of Asia and borders Burma, Laos, Cambodia and Malaysia.
Thailand has many large cities, with its capital city being Bangkok. Other cities include Samut Prakan, Nonthaburi, Udon Thani, Korat, and Hat Yai.
With great food, a tropical climate and great beaches, Thailand is definately the most popular tourist destination in Southeast Asia and has many points of interest including Bangkok, Ayutthaya, Chiang Mai, and Kanchanaburi. (New) Bangkok International Airport is the main airport in Thailand. Bangkok is by far Thailand's largest city.
There are many places to visit within Bangkok such as the Grand Palace, the Emerald Buddha, the Golden Mount, Lumphini Park, and the Queen's Gallery. Ayutthaya is an ancient capital and modern city situated in the Central Plains of Thailand, places of interest to visit include Wat Phra Si Sanphet, Viharn Phra Mongkol Bopit, Wat Phra Mahathat and Wat Ratchaburana.
Chiang Mai is located in the hub of Northern Thailand and is culturally and historically an interesting city, Chiang Mai has many things to see including museums, temples, elephants, gardens and nature. The main point of interest here is the Bridge that runs across the River Kwai as well as the many cemeteries related to World War II.
The major industries in Thailand are based on crops and include rubber products, textiles and food, drink and tobacco processing.