Koh Samui Cheapest Fares
To search and book flights to Koh Samui in 2020 and 2021, please enter your requirements and click the search button above.
The Koh Samui Fisherman's Village Festival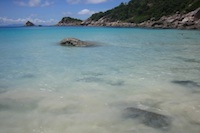 Travellers who are looking for an idyllic island paradise won't be disappointed with Koh Samui – or just Samui, as the locals call this popular holiday destination. This lovely island in Thailand is host to thousands of tourists every year, and a popular time to visit this destination is during the annual Fisherman's Village Festival, a fun-filled event promoting great music and tasty food.
Lasting for five days the festival, which is one of the most popular on the island and one of Thailand's most vibrant music festivals, generally takes place in August.
An area that was first populated by the fishermen from Southern China and the Malay Peninsula who first settled on the island about 15 centuries ago, the Fisherman's Village is one of the most well-preserved historical destinations on Koh Samui and is lined with wood-fronted shops and houses, remainders of the island's history as a French outpost.
The Fisherman's Village Festival is the perfect opportunity to enjoy lots of good, live music from local bands as well as artists from around Thailand performing pop, Thai rock and traditional music. The Fisherman's Village Festival also provides an opportunity to sample Malay, Indonesian and Indian as well as Thai cuisines, and feast on plenty of inexpensive and mouth-watering dishes such as massaman, chicken biryani and khanom jeen, (rice noodles in fish curry sauce) provided by the local hotels, and sold in food tents lining the streets during the festival.