Cheap Flights to Ireland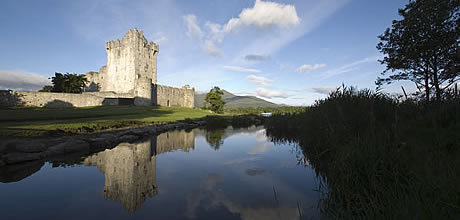 The Emerald Isle lives up to its name with lush, green landscapes and beautiful mountain scenery. Tourists hoping to catch a flight to Ireland will find a balanced mix of quiet, rural regions and busy urban areas. While many holidaymakers head to the capital for its buzzing atmosphere and shopping, those looking for a more scenic take on the country tend to gravitate towards other coastal areas, as well as the islands.
Cork
Ireland's second city boasts an array of things to see and do. Hop on a flight to Cork and discover the area's stunning architecture, high-quality markets, sweeping parks and thriving city centre. Cork is host to a number of special events and festivals, and is particularly popular with those looking to do a spot of fishing or long-distance walking.
Donegal
Located in Ireland's northernmost reaches, Donegal is famed for its breathtaking scenery, mainly comprising mountains and lakes. Travellers grabbing a flight to Donegal will be able to walk along a stunning coastline, hike through the Bluestack Mountains nearby and sample local goods such as crafts and a host of traditional Irish food and drink.
Dublin
Holidaymakers booking a flight to Dublin will find that they arrive in one of the most popular tourist destinations in Europe. The capital city has a culture, literary heritage and nightlife to rival larger places elsewhere in the world and provides a balance of busy metropolitan life and spectacular natural scenery. Dublin's Temple Bar is perhaps the most famous part of the city for pubs and bars, while the castle, zoo and Guinness Storehouse provide ample recreation for travellers.
Galway
Travellers looking for a slice of traditional Ireland should hop on a flight to Galway. The city - the country's third largest - is famous for retaining a large portion of its history in the form of the Gaelic language and age-old forms of music and dance. Galway also boasts fine architecture and a host of festivals to suit all tastes and ages.
Kerry County
This south-western region is a paradise for those who enjoy walking and sports. Travellers who fly to County Kerry will find a wealth of activities to undertake, including golfing, cycling, horse-riding, windsurfing and fishing. The area's ruggedly beautiful surroundings offer plenty of lakes, mountains and hills to explore, while its remote location means it has retained a good part of its Irish customs and traditions.
Knock
Visitors generally fly to Knock to visit the famous Knock Shrine, where it is said that the Virgin Mary, St Joseph and St John the Evangelist appeared to locals in 1879. However, there is more to this town than its shrine - such as the Folk Museum and nearby mountain Croagh Patrick - and holidaymakers will find much to see and do in one of the most beautiful parts of Ireland.
Shannon
This western region of Ireland offers respite from the busier parts of the country. Holidaymakers taking a flight to Shannon will find a welcome balance of traditional entertainment, bustling shops and serene surroundings. The area is home to the country's longest river and stunning vistas of the Atlantic ocean.
Sligo
Sligo is a large north-western town with a variety of attractions. Fly to Sligo and take a look at some of the most historically important buildings in the region, as well as complete one of its many driving and walking tours. The town has a host of traditional pubs and contemporary clubs to suit all tastes and offers activities such as golf against the stunning backdrop of the Atlantic.