Cheap Flights to Malaysia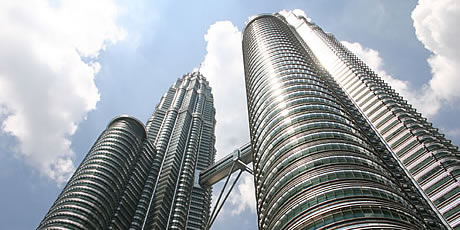 Tourists fly to Malaysia to enjoy the country's diverse culture, historic attractions and sumptuous scenery. Top-class hotels nestle alongside ancient reefs, while commercial skyscrapers overlook golden beaches. The country is mainly comprised of Malay, Indian and Chinese people - a perfect way to sample several different cultures in one place.
Kuala Lumpur
The Malaysian capital is both modern and respectful to age-old traditions. Its towering skyscrapers indicate a place of financial importance, but visitors hopping on a flight to Kuala Lumpur will find that it also hosts a wide range of cultural attractions, such as its colonial architecture and the bright lights of Chinatown. Holidaymakers can also enjoy a warm, sunny climate year-round.
Langkawi
Travellers looking to catch a flight to Langkawi will find a collection of 99 unspoilt islands to see and enjoy. Situated off the north-west coast of Malaysia, this archipelago boasts beaches, rainforests and wildlife aplenty to keep the whole family entertained. One of its odder attractions is a museum devoted to the film Anna and the King, which brings together props from the movie.
Penang
Many holidaymakers fly to Penang to enjoy the state's lively mix of history and nightlife. Nicknamed the Pearl of the Orient, the region boasts an array of beautiful structures and popular bars and restaurants, as well as areas of immense natural beauty. A number of special events also take place year-round, including festivals, markets and sporting contests.