Penang Cheapest Fares
The lowest fare found to Penang (PEN) was £689 with Qatar Airways. The fares shown here are the lowest flight prices to Penang obtained in actual searches by Just The Flight customers. To search and book flights to Penang in 2021 and 2022, please enter your requirements and click the search button above.
Penang Dragon Boat Race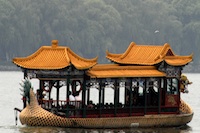 Every year, the waters of Penang fill with dragons. The annual dragon boat race is one of the biggest events in the city. Dragon boat crews come from around the world and register months in advance for a chance to participate in the yearly race.
Each year, thousands of crews take to the water to race to be the best. Many of these crews do come from Penang itself, but many others come from countries around the world. Part of the goal of the race is not simply to win, but also to provide a cultural experience for natives of Penang and foreigners alike. International participation is therefore strongly encouraged.
Penang considers the dragon boat festival one of its signature events. It has evolved over the years to something that is much more than a mere race. It is today a place for the international community to gather. It is also a place where money is raised for various charities. The attention the race has garnered over the years has made dragon boat racing one of the fastest growing water sports in the Penang region. It has also attracted the notice of corporate sponsors.
The races are divided depending on the type of dragon boat being used and the type of crew powering it. There are separate divisions for participants over 40 years old or under 18 years old. There are also separate races for all male, all female and mixed gender crews. The races are also broken up based on the size of the boat.