Kota Kinabalu Cheapest Fares
To search and book flights to Kota Kinabalu in 2022 and 2023, please enter your requirements and click the search button above.
An Arts Festival with a Difference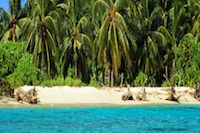 Kota Kinabalu is the capital of Sabah in Borneo, part of Malaysia. This destination, lying on the North West coast of Borneo, is ideally located for accessing lush rain forest, glorious tropical islands or the mountains of Kinabalu National Park.
Kota Kinabalu is also the site of one of Malaysia's, and indeed South East Asia's, premier arts festivals, the Kota Kinabalu Arts Festival.
Taking place over the month of June, the festival is a series of interlinked smaller festivals, a month long celebration of the performing arts which includes film, jazz, song and dance in its dazzlingly diverse programme. Organised by the Society of the Performing Arts, Kota Kinabalu Sabah, the festival is growing year on year with increasingly ambitious programming. The event kicks off with a week-long film festival, celebrating the film output of a different nation every year. In recent years, these have included Japanese and French productions. The film festival is followed by a two day jazz festival, where jazz musicians from all over the world, together with the winner of a local talent contest, perform to crowds of thousands. The festival also includes an urban arts and music festival, 'Lemon Pie', which is designed to celebrate the best of Malaysia's local talent in visual arts and music and give them an opportunity to showcase their work to a wider audience. It is impossible not to find something in this buzzing destination to capture your imagination.