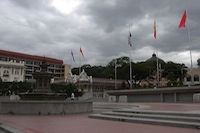 Book cheap flights to Malaysia by selecting an airport destination in Malaysia below. Compare flights to Malaysia from over a hundred airlines worldwide and book online with us today.
Malaysia is a truly unique place with a plethora of attractions for tourists due to its position. Located in south-east Asia, it consists of two main land areas separated by hundreds of miles of the South China Sea, called Peninsular Malaysia (west) and Malaysian Borneo (east). Also part of Malaysia are numerous tropical islands that make it a very desirable location for holidaymakers.
Peninsular Malaysia is generally better off than its neighbour is and it is there that you will find the capital city, Kuala Lumpur. The country's international airport is located here, with flights available to many global destinations. Known as one of the more beautiful cities in the world, Kuala Lumpur has everything you could want in a destination, with a bustling city centre, stunning architecture, and excellent areas for shopping and leisure. On the Borneo side, Sarawak contains many national parks, displaying incredible forests, mountains, and wildlife that will not be soon forgotten. Malaysia is a beach lover's paradise, with a huge amount of tropical islands, most of which offer amazing snorkelling and diving experiences. Notable islands are Kapas and the Perhentian Islands, both just off the state of Terengganu on Peninsular Malaysia.
Aside from tourism, much of Malaysia's industry comes from petroleum and electronics. Malaysia has a very high-tech infrastructure, which can be very difficult for tourists to get used to and also entertaining for the locals who witness this difficulty. With a huge scope for travel and leisure, Malaysia is an extremely popular destination for a holiday, which can end up lasting longer than first planned.