The true cost of low-cost

The rising popularity of low-cost airlines has been well documented in recent years, with travellers able to pay seemingly amazingly cheap fares for services flying across the globe. However, it can be a good thing to be prudent before leaping straight in to the world of ultra cheap flights - as you might not always be getting what you think you're paying for.
What are low-cost airlines?
Also known as budget, discount or no-frills airlines, low-cost carriers offer flights to destinations throughout the world for a fraction of the price charged by more traditional airlines like British Airways and Virgin.

The reason they are able to charge such low prices is because they take the no-frills concept at its most literal sense and provide the most basic of amenities onboard flights - while charging passengers for anything extra they might require.
The true cost of budget flights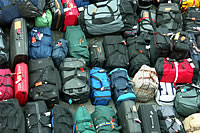 Fees for services can range from travellers having to pay for inflight meals if they don't want to take their own food onboard, to charges for seat reservations, baggage handling, check-in and other airport services.

As you might imagine, free hi-tech inflight entertainment systems are nowhere to be seen. Budget airlines can also save money by using smaller airports with lower costs than the bigger hubs and offering one passenger class - i.e. economy - instead of two or three.

Despite this, low-cost flights are still snapped up by holidaymakers looking for the cheapest break possible. However, passenger complaints about the service provided by no-frills carriers have been much publicised - a recent report from the European Commission (EC) highlighted that low-cost airlines appear to adhere to rules and regulations regarding passenger rights significantly less than more traditional airlines and has given all carriers six months to clean up their act or face legal action.
What are the causes for complaint?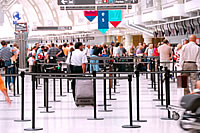 According to the EC report, customer service is one aspect of flying that certain budget carriers fall down on. It found, among other things, that low-cost airlines tend not to have the same agreements for making alternative travel arrangements via air for passengers when a flight needs to be re-routed as their full-price counterparts do.

The report states: "In these cases, some airlines reportedly refuse to provide appropriate assistance and hotel accommodation, or even to refund passengers." It goes on to add: "Low-cost carriers, usually operating from regional airports, often struggle with the obligation to provide assistance."

Staff can also be less geared towards making passengers comfortable and lean more towards persuading customers to purchase 'extra' services and take advantage of deals and special offers from their partners, according to one passenger's testimony. This can even include the sale of items seemingly unrelated to the flight, such as scratchcards.
Spot the hidden cost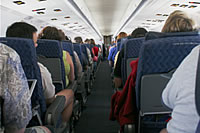 As mentioned earlier, budget airlines have to make their money somehow - one way of doing this is through fees and charges that are not always advertised along with the headline airfare on advertisements.

Everyone has seen these ads - they usually display the basic cost of a one-way flight prominently in an attempt to wow people who happen to see it. However, as many travellers quickly realise, these fares tend not to be inclusive of charges such as baggage handling, check-in and food. And if you would prefer not to jostle for a window seat with other air passengers you'll have to pay for priority seating too.

Indirect costs associated with discount flights also include taxi or public transport fares to and from the airport. Of course, everyone without a car must pay such fares, but as low-cost carriers tend to choose out-of-the-way regional airports to take off from and land at due to the lower cost to the airline, you may find that these fares escalate more often with no-frills flights than with other types of services.

Then there are the non-financial costs - including the stress of getting all of your family sitting in the same part of the plane and the headaches caused by delays and being stranded in the middle of nowhere. While the latter is a risk with any airline, the aforementioned lack of a commitment to making sure passengers complete their air journeys safely on the part of budget airlines means it appears to happen more often than not with no-frills flights.

One other method used by some low-cost airlines is to charge a relatively low price for the outbound flight while hiking up the fare for the return flight. So travellers beware - the final cost of your seemingly bargain ticket may turn out to be significantly higher than you first thought.
Your favourite destinations - are they being served?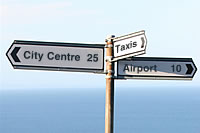 Another factor to bear in mind is that low-cost airlines tend to offer a very limited range of options when it comes to flying long-haul. Short-haul services are plentiful, but the few long-haul discount airlines in existence tend to be based overseas and offer few choices compared with traditional carriers.

Of course, this doesn't mean that this will always be the case, but the viability of airlines being able to fly long distances while still charging low prices is in question. Ryanair chief executive Michael O'Leary recently hit the headlines for proposing to launch flights to the USA priced from €10 (around £7) each. Of course, this doesn't include taxes, but the main sticking point of this plan is that it would be near impossible for the airline to make much money out of such a venture.

Andrew Lobbenberg, an analyst at ABN Amro, told the Guardian recently that a low-cost airline is likely to struggle with offering discounted transatlantic flights because the main carriers generally make their money on these routes through the people who choose to pay extra to fly business or first class.

"It's not the same as short-haul, because in the days before low-cost carriers it would have cost £200 for a return to Milan," he said. "Now it's £50. Going to New York costs around £250, partly because economy is cross-subsidised by business."

Lawrence Hunt of business class airline Silverjet added that another problem would lie in customer service, commenting: "Customers expect some degree of service. They don't mind being treated like a piece of meat for one-and-a-half hours on shorter flights, but for eight hours they will expect something different."
The alternative?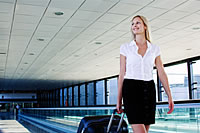 Traditional carriers have much to offer the traveller disillusioned with the world of no-frills flights. Clean, comfortable cabins, friendly staff, meals and often superb inflight entertainment systems are all inclusive in the price of your ticket. You can also skip the dubious pleasure of racing to the plane to bag a prime seat and instead walk on at a leisurely pace, safe in the knowledge that your seat is fully reserved.

In terms of cost, the prices of flights in general are coming down all the time and recent years have seen traditional airlines shake up their pricing structures to reflect this.

In particular, regular seat sales mean that travellers can often find a low-priced flight that includes the services budget airlines charge extra for - which could be seen as more of a bargain than an uncomfortable flight for a few pounds less.

If you insist on going down the budget route, it's a good idea to conduct some very thorough research before booking a ticket. It's easy enough to be tempted by the prospect of a £10 flight to your favourite holiday spot, but more often than not you'll find this fare quickly doubles, trebles or more as extra costs and charges are piled on top.

Of course, with the wealth of information on the internet it is now very easy to look into the various costs - but if you prefer to be extra savvy and avoid the trouble, sticking with a decently priced traditional flight without the headaches associated with their budget counterparts is probably the safest option.