Virgin Flights and Routes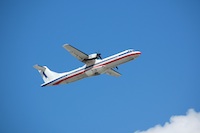 Virgin Atlantic offers regular services to 51 destinations worldwide covering the US & Canada, Australia, Africa and Asia
Virgin Airline passengers will be some of the first in the world to test out the highly anticipated Chromebooks. Laptops running the Google-created Chromium operating system are just starting to come out on the market and this summer Virgin passengers will get a first look at them during select flights.
Travellers awaiting their flights will be able to pick up laptops at one of many "Chrome Zone" lounges that will be made available for them. The airlines will loan out the computers for them for use on the flights. The relationship between Google's Chromebooks and Virgin Airlines is hoped to promote the newest technology development on the market today.
Best of all, the service is completely free! Laptops and free Wi-Fi will be available for all passengers who pick up one of the laptops. There will also be a Google Chrome staff member in flight to assist passengers with any and all questions. This service, also, is being offered for free.
As one of the most popular and highly successful airlines in the world, Virgin will be tapping into the tech-savvy market with this new move. Making a debut in the summer of 2011, these 'test flights' will continue for months. They will introduce many travellers to the most-recent OS on the market and one of the first really exciting competitors on a market that is monopolized by Microsoft.
The move is just one of many ways that Virgin Airlines seeks to offer their passengers something that will make their journeys a little more comfortable and pleasant. The airline giant hopes that "Chrome Zone" lounges will be the latest of the airline's many amenities for passengers.